The 2011 smash flop, Philosophical Investigations, has today come to an end.

Figure 1. Conventional cameras can not capture the sublime performance of Raph Shirley.
The show of which The Telegraph said nothing at all, the show nominated for under 1 awards, the five star masterpiece (five one star reviews from audience comment website edfringe.com) has finished with a faintly audible plop.

Figure 2. Raph Shirley sensitively discussing the role of Islam in the West.
Highlights
For me the highlight has to be an extremely angry man yelling 'call me soft of mind again and I'll knock your fucking head off'. If that's not the reaction every comedian wants I don't know what is.
Or perhaps the show performed to three silent octogenarians?
What of the various people who found it 'deeply offensive'? Including the American lady who kindly inquired 'Have you been doing this for long?'.
Whatever your favourite moment is, remember:
'Any logically coherent doctrine will always be painful to current prejudices' – Bertrand Russell.
Edinburgh 2012 is in the making and promises to be even more confusing to audiences everywhere.
Be ready,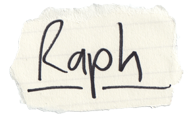 Warning – everything below this point is written in earnest. The lack of irony and cynicism may make you want to vomit. Please proceed with caution.
Thank you very much to Peter Buckley-Hill, everyone involved with organising PBH's Free Fringe 2011, and the kind staff at Rush Bar who helped me throughout the festival.
Cheers,
Raph Shirley, Edinburgh, August 2011.