Hello,
Please come to my Edinburgh Preview at 9.30pm on Sunday 22 July at the Hen and Chickens Theatre Bar, Islington. I'd like it if you did.
Buy tickets here. Or pay on the night to save £0.75 you cheap skate.
If you're in to Facebook events:
https://www.facebook.com/events/499420723407199/
Many thanks,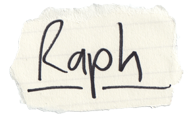 *************************** BONUS MATERIAL ***************************
Bonus material – Philosophical Investigations Results Section in mind boggling high definition audio
As part of a scheme to promote my forthcoming Edinburgh show, I am releasing an audio recording of last year's show, Philosophical Investigations. I'm releasing it in six parts. This week, it is the results section:
[audio: http://www.raphshirley.com/media/PhilosophicalInvestigations/Section3.mp3]
Or download it for your mp3 player here.
*************************** BONUS MATERIAL ***************************