I thought secretly living in my parents garden was going to work out… The plan to be covert was going pretty perfectly until my dad followed the daisy chained power adapters to the shed and uncovered my den of sin.
It was Friday night when it happened. 9pm and I'm layin' on the bed sewing pre-emptive crotch patches into my new wranglers. I got fan heaters in double figures and there I lay, naked in my vault of vice. My cave of carnal cravings. My garden shed of earthly delights. My castle of sin on a sand pit. Sin upon sin upon sin. Soiled sheets and empty doritos bags. Dangerous quantities of both analogue and digital pornography. Empty cans of value lager and printed out computer game guides. Hard drives and keyboards. Mice and memory cards. DVDs upon DVDs upon DVDs (alphabetized). Terminator figurines on computer manuals on atheist propaganda. my wretched body draped in a sweaty grime cloth from George by Asda.
Don't look at me! Vice and squalor and dirt. The very air was composed of fart, and cough, and the ghosts of filthy words. My parents are retching and they said `this ground must be condemned for a hundred years', `ten generations shall pay for this crime'. I was a filthy animal. I knew then I had to move out… and four months later I had. I dunno maybe I'm going over the top.
Al the best,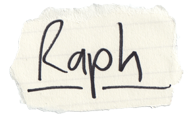 *************************** BONUS MATERIAL ***************************
Bonus material – Philosophical Investigations Discussion section in unremarkable high definition audio
As part of a scheme to promote my forthcoming Edinburgh show, I am releasing an audio recording of last year's show, Philosophical Investigations. I'm releasing it in six parts. This week the discussion:
[audio: http://www.raphshirley.com/media/PhilosophicalInvestigations/Section4.mp3]
Or download it for your mp3 player here.
*************************** BONUS MATERIAL ***************************